Bronze watch patina – love it, leave it or nothing else
The term or phrase bronze watch patina removal is the most searched phrase on the largest internet search engine related to "bronze watch". Bronze is an alloy and consists of copper and tin. Depending on the composition, there are 6 to 8% tin. Other metals are added, depending on requirements, as copper tends to be soft. The clock pictured above was artificially and intentionally treated to get a particularly strong patina. This is not normal 😉
How to remove the patina of a bronze watch
You can wipe off the patina and the watch will shine again, just like silver can be made to shine again. The answer: with acetic acid, not too acidic or with lemon juice.
Bronze is a great material because it differs from steel and iron in appearance and resistance. It is used on ships because it is seawater resistant. The salt water destroys most metals, not bronze. So it happens that bronze was used in early diving helmets.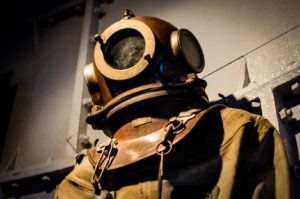 These helmets had a hose that screwed onto a suit. Propellers are often made of bronze, nautical instruments like barometers, clocks ;-), fittings, handles, or the compass you need for navigation. Everything is made of bronze.
But why actually remove the patina?
Bronze is virtually THE metal for the sea. That's why it makes so much sense that diving watches made of bronze also exist. A watch is jewelry and a tool. Depending on how you look at it. Bronze in diving watches has a technical sense and looks good. That is why bronze watches are popular and have a following.
Bronze watch with patina
Bronze: Patina is "attitude to life
Not completely serious, but it is already a way of life whether you can live with your watch if it shows "signs of wear" or eb you are all about "bling bling". The material discussed here is, I think, not for people who constantly need new things, or have a cleanliness stick. They might be disappointed after buying such a watch. Maybe a photo on a watch blog lured them in and so they bought the gold looking piece of horlogerie….
As mentioned, bronze watches do not rust, but they patina and get a darker color over time. This is due to environmental factors and sweat on the skin, which is salty. This leads to color changes in the metal. Now this is perhaps where spirits part ways. For those who like the new and shiny, the patina is perhaps a reason to refrain from a bronze watch. For those who appreciate that patina is also part of life and thus makes a watch unique, the material is optimal. I think this is what makes a bronze watch very special and you may build a different bond with the watch.
Bronze is also a little heavier than iron or steel. Who does not like heavy watches, is now informed.
Your companion and your anchor: Homage to bronze (watches)
Bronze as a case material is archetypal of the elements of water and earth, and it embodies diving. Diving watches are mostly made of steel and as a collector of vintage watches, I have seen watches that were pitted on the case back. Due to the fact that mankind likes to have new and watches are often seen as jewelry and status symbols, bronze has had a niche life so far. In the world of fashion, aging is not considered desirable.
A bronze diver's watch on your arm accompanies you and reminds you of waves, the sea, and that you have to get out and down again. That's what a bronze diver's watch does! It is your anchor and your companion, reminding you to do something again that brings you closer to nature. Under water and at sea we are at the mercy of the elements. We forget our problems and are in the here and now.
In general, I think that can be one of the reasons to love watches. Because you associate something with a watch. A story, an experience, the enthusiasm for the craft, not least the function that lives in a vivid form.
For me, watches have never been an investment, but a passion. Not hype.