Baselworld: Big Brands, Breitling, Rolex, Tag Heuer, Glashütte Original and curious luxury pieces
After visiting the AHCI stand at this year's Baselworld and other independent watchmakers, I ended up in the Big Brands hall. One is, yes once again, blown away. I'm a big fan of (Tag) Heuer, especially from the years 1960-1980, and right at the entrance I find the re-edition of my reverse Panda Autavia 3646 Andretti.
But it looks different somehow. It has grown and adapted to today's larger diameters. Mine is tiny in comparison. I didn't even take a photo. Perhaps out of sheer excitement and because it was impossible to hold it in my hand.
Then we move on, Glashütte has a watch with a super dial, namely the Senator Sixties. Looks great, but is extremely a matter of taste, because not everyone shares that opinion with me. Next to it, at the fair and here, the Panograph is also a gorgeous specimen. I just really like the watches because they have a great design, apart from the workmanship and technology.
I also take a quick look at Rolex, because I'm immediately drawn further afield and discover my personal highlight. A genuine vintage Breitling Superocean 807 from 1957-1964, Breitling's first diver's watch.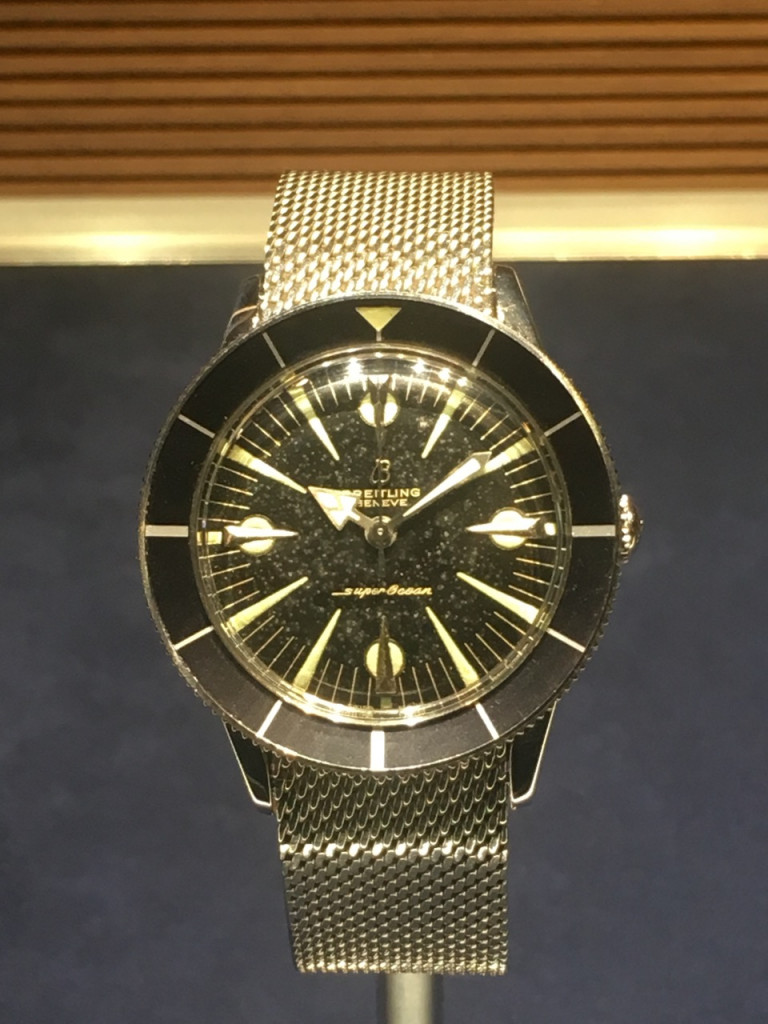 I especially like the bezel ring that slopes inwards. I hadn't seen that live before. The design as a whole is simply coherent and not overloaded. If I had stopped my visit to the fair at this point, this watch would be my favourite. Sure, vintage again! Isn't there a watch that's new that I really like?
It turns out that I still find my absolute favourite later. But let's stay with Breitling for a moment.
Breitling is staying at Baselworld for the time being. The problem with the fair is a different one.
I had planned and said that I would not write on general politics and facts in the background of the fair, because I do not want to run a news platform. However, given the occasion, I can't help it. Breitling announced yesterday that it will stay for the time being, but that it expects changes on the part of the fair organiser. In Part One, I already described a little bit how special this fair is. A very big effort, financially and logistically. I can't even imagine how complicated it is to secure the watches against theft and to have them disappear into safes all the time. Wheelbarrow after wheelbarrow. This seems to happen to some trade fairs at some point, because just recently the dmexco, the largest online marketing trade fair in the world, completely reorganised itself because the big digital brands and companies threatened to cancel. When an industry is weakening, you can hardly afford to run a pure show event. The people with the sharp pencil then remind the marketing and decision-makers of this. And they then remind the fair organiser. Baselworld will certainly change or, let's say, become more digital.
Back to the fair. My selection from the Hall of Big Brands. While looking through the pictures, I discovered another highlight. The Citizen stand was the highlight of the fair. Thousands of movements hung from the ceiling on nylon threads. From every angle, this arrangement was symmetrical and absolutely inspiring from a perspective point of view. You have to see it and it doesn't come into its own in a picture or video, unfortunately.
Part 3 with Video and pictures.