The Omega Speedmaster has two siblings
After the worthwhile visit to the Omega Museum, I have now been able to gather a little visual material and knowledge on the subject. To start with, I was amazed to discover that the Speedmaster and Seamaster still have a travelling relative, the Railmaster. So Omega has created a triumvirate of masters, although the Railmaster range is probably less well known.
But why is it actually called Speedmaster?
In 1957, the Omega Speedmaster reference CK2915, pictured below, was the first wristwatch chronograph with a tachymeter scale on the bezel. The watch is also called Broad Arrow, because of the 50 years typical hands that look like arrows. Tachymeter means "instrument for rapid geodetic measurement, which measures distances in addition to vertical and horizontal angles" or, in other words, it could be used to measure speed based on a distance of one kilometre between the start and end points, just like a tachometer. It was groundbreaking because it was the first of its kind. Of course there were stopwatches, but not with a tachymeter and certainly not on the wrist. One was thus a master of time as far as speeds were concerned. A Jedi among racers or rather an R2D2?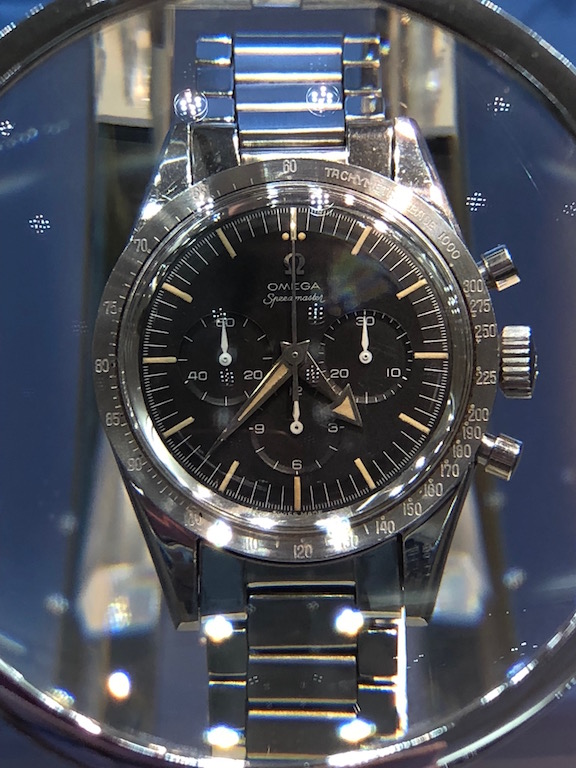 Who needs such a thing? The police of Upper Austria and racing drivers
Because, from the 60s onwards, racing drivers were able to record their speed themselves, in addition to lap times. The pocket calculator had not yet been born and slide rules were used for complicated calculations.
Speaking of Jedi or Star Wars:
The dark side of the speed universe had also discovered this power for itself. I remember that the police had painted two lines in front of my grandfather's house and were lying in wait with a stopwatch. That's how they used to catch speeders.
I remember a discussion between the gendarmerie and my grandfather that the time should perhaps be measured elsewhere. Unfortunately I don't have a picture of that. Today there are digital cameras that record such records. Tempus fugit.
Omega Speedmaster Moonwatch
Sticking with Star Wars and the Speedmaster, the first Omega in space followed in 1959 (reference CK2998) and in 1963 Nasa certification with the third model series:
As a result, it was the first watch on the moon in 1969, giving it the nickname Moonwatch.
This Speedmaster was the first watch to pass NASA's demanding test procedure for space suitability. Other brands, also known around the world, submitted their timepieces, but the Speedmaster was the only model to qualify. It was tested for several months and especially the temperature differences of 200 degrees separated the wheat from the chaff. As a result, it was the first watch on the moon in 1969, giving it the nickname Moonwatch.
It achieved cult status when it was worn on the "Gemini" and "Apollo" missions because it offered astronauts maximum precision and reliability. Interestingly, the first model approved was also to be one of the last worn on the moon in 1972.
Snoopy, or how the Speedmaster saves lives
But it gets even better: when the Apollo 13 mission went wrong in 1970 and had to be aborted, the accuracy of this watch saved everyone's life. You can see it in the 1995 film or read about it here: https://www.outerplaces.com/science/item/16709-apollo-omega-watch-nasa.
In short, all computers (and more) were unusable and re-entry into the atmosphere had to be timed precisely from the space shuttle by firing the engines manually. Otherwise, there was a risk of burning up in the atmosphere.
ommt aber noch besser: Als 1970 die Apollo 13 Mission schieflief und abgebrochen werden musste, rettet die Genauigkeit dieser Uhr allen das Leben. Zu sehen im Film von 1995.
Kurz gesagt, waren alle Computer (und mehr) nicht nutzbar und man musste den Wiedereintritt in die Atmosphäre zeitlich exakt von der Raumfähre aus durch manuelles Zünden der Triebwerke einleiten. Ansonsten drohte das Verglühen in der Atmosphäre.
Houston, we have a problem.
What Snoopy has to do with it? Maybe you have seen Speedmaster watches with Snoopy on the dial? Nasa had chosen Snoopy as a mascot, more or less as a marketing figure of sympathy, and because he already had flying experience.
The Snoopy Award is the highest award given by Nasa astronauts to those individuals or companies who make a substantial contribution to the success of a manned space mission. This informal honour does not come with any prize money. Less than one per cent of the total workforce receives it annually, and the Omega Speedmaster after the Apollo 13 mission.