Furnitures are spare parts for clocks.
Furnishings, that's what you think of when you think of furniture. Learned something again. The word comes from the French "furniture" and means delivery. Since that has been clarified and I like to tell stories in pictures, let's just start with that. Freely according to the motto:
One bottle of watches please!
An institution in Bienne
The Herrli shop run by Maurizio has everything a watchmaker needs. It's a shop for watchmakers and watch lovers. He would fit well in a story like Momo, as a guardian of time, or something like that. If Michael Ende had known him, that would have been fun. At Maurizio's you can get accessories like bracelets, whole watches, tools and devotional objects. Watchmakers of every couleur, from the haute horlogeur, the museum curator of Omega, the watchmaker per se to the watch fan, we all find something here.
30 automatic movements from the 70s in NOS? No problem, drawer 5. These movements by Nivada from Grenchen are a feast for the eyes.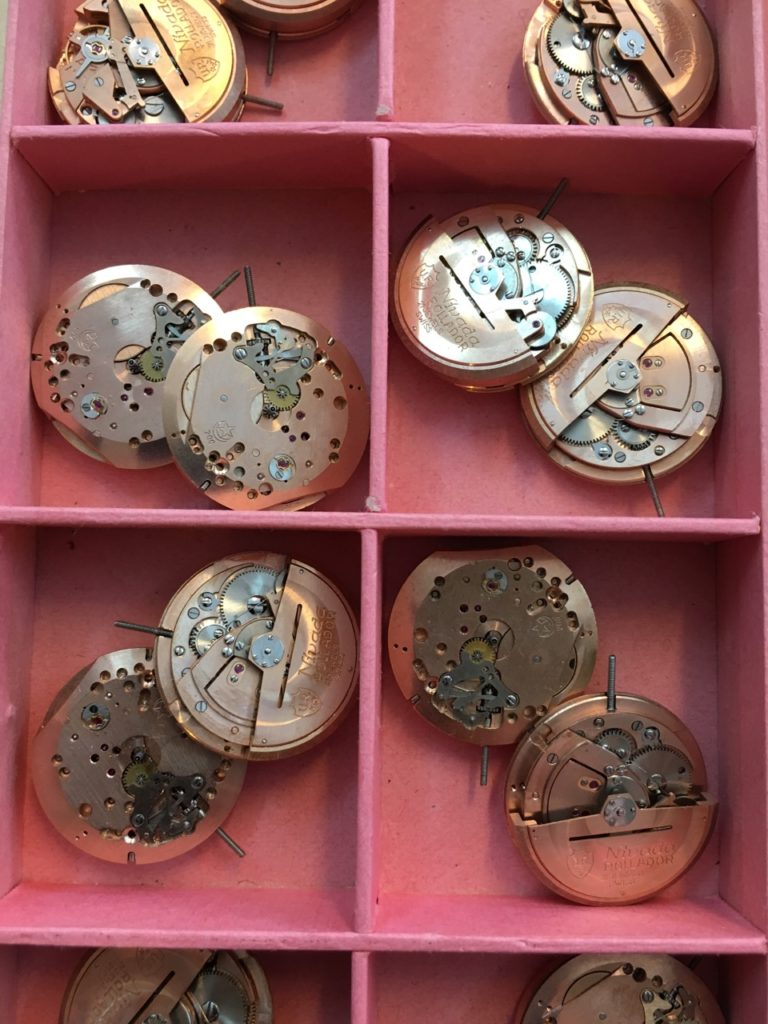 Biel? Or Bienne, one of the world's largest watchmaking metropolises.
Bienne is one of the metropolises as far as the watch industry is concerned. Omega, for example, has its production facilities and museum here, Swatch its headquarters, Rolex produces its movements here and there are a total of 100 watch companies, such as Armin Strom, Eberhard & Co. and so on.
Maurizio's shop is exactly called Horlogerie Herrli and can be found here: Freiestrasse 24, 2502 Biel, Switzerland – He doesn't have a website. So you have to go there yourself. If you do, please say hello to him.
Thank quartz crisis?
Like all crises, something new emerges from the quartz crisis. Because everything Maurizio has in his shop is from before the crisis. The tools and watch parts are "vintage" in themselves. Since we have a real vintage boom at the moment, see Baselworld, Maurizio's shop is actually fully in line with the trend. When he reads this….
Vintage parts for watches
Since I personally love to repair things, I enjoy going to flea markets or junkyards. And I think it's great when people dedicate themselves to preserving old technology. Vintage car parts are now a business. Maurizio's shop is like a spare parts warehouse with watch parts that are no longer made. Only that the whole thing has more charm than a professional vintage car parts distributor, founded by a dentist or lawyer who wants to "do something good for the cause" and make a pile of money in the process…. Maurizio is a very nice guy, like all Swiss (that I know) and does his job with heart and soul. The pictures show what I mean when I say you can browse Herrli ch.
What a play on words! Herrli in CH.
The next time I'm in Biel, I'll deliver another photo of Maurizio, which somehow got lost in Lake Biel. Update: I got the photo.