Vintage Arios World Time. World time and more: the Swiss watch pocket knife.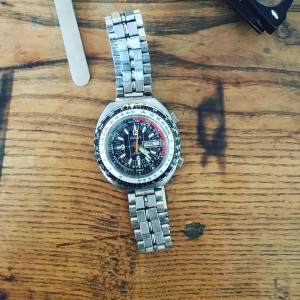 The "hard" facts about the beautiful Arios watch are the following stunning specifications:
Water resistant to 50 metres.
World time: with the upper of the two crowns, you can set the world time to different cities via the inner ring.
Slide rule: with the outer rotating bezel you can calculate. If you know how. Unfortunately, I don't have a manual for it and my days of using a slide rule are over.
Tachymeter: The white bezel ring is used to calculate the speed.
It also has a date and weekday indicator.
Movement: Manual winding, RL 1217-21 from Ronda. Here are the exact data of the movement: http://www.ranfft.de/
Case dimensions: 44 mm diameter and 46.5 mm from top to bottom.
Functions, patina and a design that beautifully presents form and function.
For me, however, it's more the soft facts that count. I like the many functions, even though I don't use them in my job or hobby. But, as a child of the 70s, I remember too well how such functions were something special back then. The slide rule accompanied my father as an engineer in his daily life and we also used these tools at school. It was something special, a kind of tool like a ruler or metre rule and at the same time an aid for calculations.
But honestly: I think it just looks great! That's why I don't care about the brand. I can't remember when I bought the watch. It must have been around 2011. You can still find such a model today, for example on ebay or in forums, although they are quite rare.
Sometimes you win when you buy an old watch and sometimes you lose. Here I have won. It runs perfectly and the patina is as a watch of this age can tolerate.
Arios, Sicura, a Breitling?
Okay, the headline is harsh. But: I can say a little about the origin of Arios. It reminds me a little of Sicura in terms of case and back. There are sources that claim that Sicura made these models for Arios. My research on the net didn't turn up much, except that the brand seems to still exist. There is a semi-finished website. Perhaps they want to revive the brand?
If you search for Breitling, you will also find Sicura watches. These are resourceful keyword optimisers in ebay who want to expand the clientele. There is a common past between Sicura and Breitling, but it is not technical. There are already some articles on the net about this.